Seven Gardens on Hokkaido Garden Path
The seven gardens that connect Asahikawa, Furano and Tokachi.

・Asahikawa
The gardens are based on a traditional English garden, yet they are designed to match Hokkaido's blue sky and climate.
・Furano
The garden has been drawing people's attention and attracting many visitors as it was used as the setting of the TV drama "Kaze-no Garden (Windy Garden)" written by the prominent playwright So Kuramoto.
・Tokachi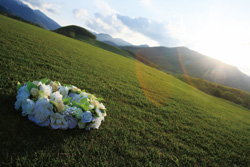 Garden Wedding for Your Important Occasion
Many of the gardens have accommodations for a wedding. Each of them has their own setting such as lawns, forests and flower gardens. Ask the gardens for details.